Digital Excellence: Tailored for your business
As a company transforms into a digital marketing powerhouse, the company should know where they are today, how they compare to the best and how to improve progress.
Digital transformation – identifying the gaps between where you are and where you need to be, then closing them;
Customised training – delivered in-house and tailored to team's needs and business objectives;
Digital reviews and advice – independent advice on suppliers, performance audits and benchmarking;
Content strategy – bespoke advice to develop strategies and manage processes;
Leadership sessions and mentoring – strategic support and personal advice for those leading digital.
Defining Content Strategy

What is content strategy?
Focused on content marketing and fulfilling marketing related objectives. A definition of content strategy should cover all these aspects.
In 2007, Rachel Lovinger wrote "The main goal of content strategy is to use words and data to create unambiguous content that supports meaningful, interactive experiences."
In 2008, content strategist Kristina Halvorson described content strategy as "plans for the creation, publication, and governance of useful, usable content".
Richard Sheffield defined it as "a repeatable system that defines the entire editorial content development process".
A repeatable system that governs management of content throughout the entire content life cycle to achieve specific business objectives.
What is a content strategist?
The best definition of a content strategist is to focus on what they do. "Content strategists achieve business goals by maximizing the commercial impact of content."
A Broad Framework of Content Strategy
A content strategy process can be defined in six stages that fall into three areas: Preproduction, Production, Post-production (as seen in the below diagram).
Preproduction:
Research/Insight
User needs analysis, developing personas;
Content inventory, audit;
Competitor/gap analysis;
Measurement and analytics framework
Content management/resourcing
Information architecture (site structures, taxonomies, metadata frameworks);
Content management tools and practices;
Back-up, versioning, archiving practices;
Analytics configuration;
Governance and standards;
Budgeting;
Resource requirements
Content planning and objective setting
Brand positioning, purpose, point of view, guidelines, tone of voice;
Aligning content objectives with marketing/organisational objectives;
Targets, KPIs, success metrics, mapping outcomes to business value;
Concept development;
Themes, messages, topics;
Planning – calendars, channels, content type, format integration;
Workflow – RACI;
Role of third party/user generated content.
Production and execution
Content production
Content creation;
Content optimisation – accessibility, SEO;
Tagging and classifying;
Insourcing/outsourcing in production;
Role of third-party tools and technology;
Content re-use.
Delivery/distribution
Role of agencies;
Content distribution;
Role of third parties – syndication, aggregation.
Post-production, evaluation
Content review/optimization
Analytics evaluation;
Optimisation;
Test and learn;
User experience.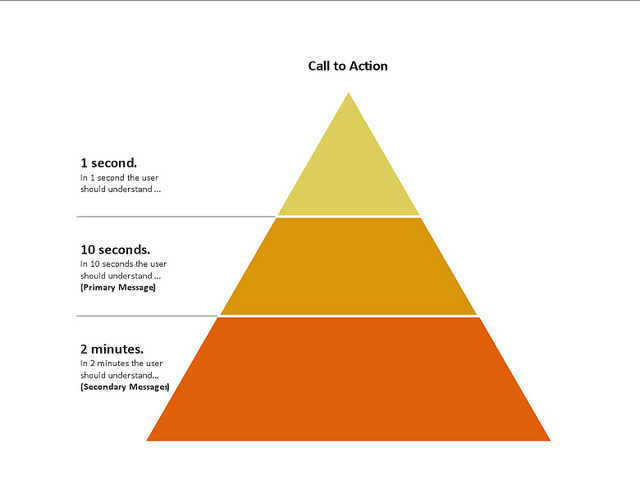 Resourcing and Capability
According to Econsultancy's (2013) Digital Marketing: Organizational Structures and Resourcing Best Practice Guide revealed an emphasis placed on content and content marketing by many organizations. The model for centralized resource typically sees core digital marketing functions grouped together, and content resource either sitting as part of that same team, or at least alongside as part of a wider e-business unit or digital CoE.
The growing importance of content marketing
A survey of 1,300 conducted in 2012 found that over 90% of those surveyed believed that content marketing would become more important over the next 12 months. Almost three-quarters (73%) of those surveyed also agreed that 'brands are becoming publishers' and two-thirds (64%) agreed that content marketing 'is becoming its own discipline'.
The increasing sophistication of content capability
Feedback from both researches show a range of approaches for resourcing content marketing. 46% of those surveyed had a team member dedicated to the discipline. Almost a quarter of those surveyed said their company was planning to use this in the future, and a third had no plans to use this discipline. These different approaches shows a role that digital and content plays for an organisation. This shows a growing emphasis on the importance of media assets and the production, distribution and optimisation of content to feed those assets.
Some organisations are creating new roles for content marketing, while others are focusing on up-skilling staff and adapting existing roles for content marketing needs. Content marketing requires broad-based knowledge and skills from different vertical functions that are associated with content.
Insourcing and outsourcing
Many companies have invested in expanding their in-house content resource in recent years as they see it as important to manage particular aspects of content in-house, e.g. website, media assets. Agencies don't have a limited role in content strategy.
The main areas that combine both outsourcing and in-house resource reflected primarily owned media assets.
Factors impacting decisions on what to outsource included;
Cost
Flexibility
Adaptability
Scalability
Access to specialist skills.
The disadvantages of outsourcing were;
Focus;
Communication;
Control.
Results from 2011 and 2013 showed a trend towards capability in content-related functions being developed in-house. Different sectors veer towards insourcing or outsourcing content capability. The benefits of in-house approach are;
Greater ability to integrate activity;
Agility.
Comparisons between 2011 and 2013 show a shift toward insourcing most notably in key functions, e.g. SEO, web analytics and data.
Website design and build – a trend towards outsourcing
Despite the growth of in-house resource, there is a broad range of options for marketers to outsource content capability to specialist and generalist content-focused agencies. The market is evidently maturing rapidly.
There will always be a mix between in-house and outsourcing in this area, but the dynamic will continue to shift. Flexibility is an advantage of outsourcing.
Specialist and generalist resource
Content focused roles, such as UX and copywriting, are allocated as a specialist resource. Broader roles like content marketing were allocated generalist expertise. Skills like SEO may be specialist in nature of other functions, e.g. copywriters. Comparisons from Organisation Structures and Resourcing research show a smaller number of companies were assigning specialist resource to SEO in 2013 than 2011. Analytics and data is where a larger number of companies are assigning specialist resources.
Organisational co-ordination of content
In 2013, Altimeter Group released a report on 'Organising for Content: Models to Incorporate Content Strategy and Content Marketing in the Enterprise'. The report highlighted six ways how companies might organise for content marketing, and govern the orchestration of content:
Content department or division: in-house team that creates large volume of content;
Cross-functional content chief: senior executive with cross-departmental authority;
Executive steering committee: a cross-functional steering group;
Content lead: leads content initiatives editorially or strategically without cross-departmental authority;
Editorial board or council: content creators and marketers who meet frequently to align content;
Content centre of excellence: consortium of experts who provide best practice and leadership.
While marketing and content teams are essential in developing and executing strategy, there are often international stakeholders that must be collaborated with to ensure effective implantation. Key roles also include content-focused meetings, collaboration tools and cross-divisional content calendars.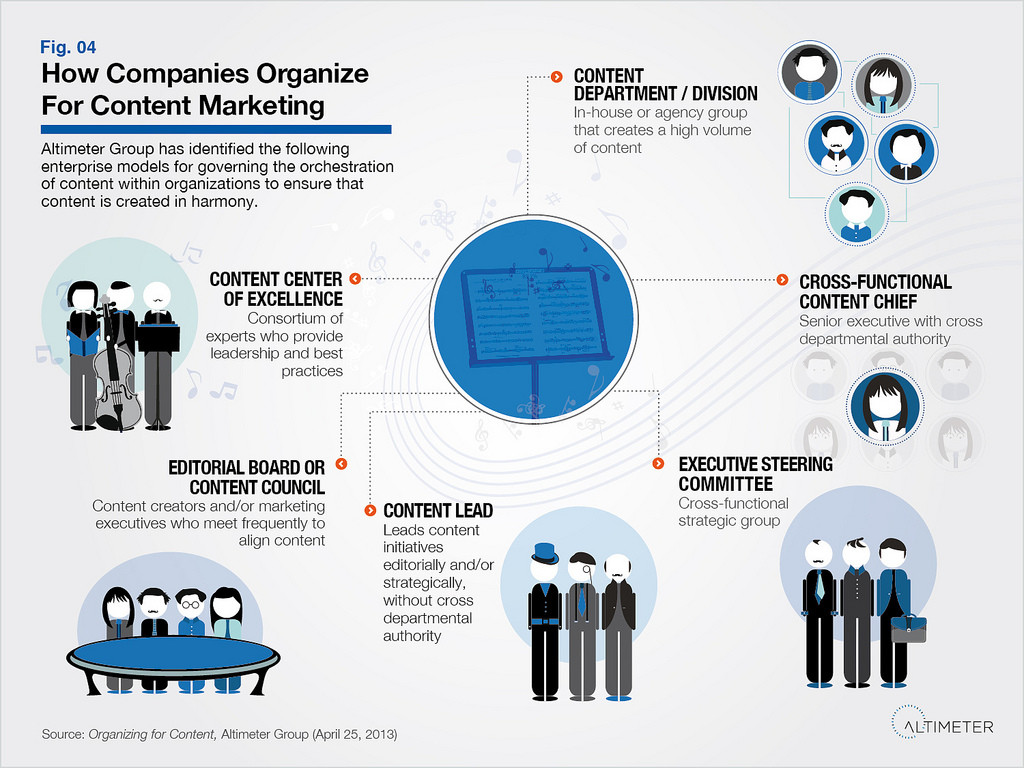 A few organisations (mainly in the US) have created the role of Chief Content Officer, but any company spoken to for this research have not. However, many senior staff are starting to have the word 'content' in their job title.
The content centre of excellence
Resource begins by being spread across an organisation. As capability grows, it can come together into a centralised team or unit, which is part of the digital marketing team or sits beside it. This is consistent with the maturity model developed for wider digital marketing capability. The 2011 and 2013 Organisation Structures and Resourcing reports shows the CoE is the dominant structure for digital marketing teams. The advantages of this structure are:
Greater consistency and control;
Governance and focus;
Scalability and support.
Disadvantages of centralising resource are;
Need to integrate seamlessly with the strategy and activity of multiple teams;
Potential lack of knowledge sharing with the wider organisation.
However the benefits of centralisation clearly outweigh the disadvantages.
Content talent, and the "pi-shaped" content person
There is a talent shortage in some areas relating to content, mainly in analytics and data. Growth areas, e.g. video and mobile, companies are focused on up-skilling existing staff, or using outsourcing to augment available skills. This combination of the more creative with the more analytical side of content expertise echoes the idea of the so-called 'pi-shaped' digital person.
Content Planning
The shift to always-on
Focus and budgets were moving to always-on channels and content, while campaigns are also important.
The importance of vision and brand purpose
Clarity of brand purpose and vision has been singled out as the basis for good strategy. One aspect of content strategy that brands forget is the core purpose of the brand and what they stand for. This should inform everything. Key questions should be what territories the brand can own, the best way to own that territory, and what does the brand take a stand on?
The importance of starting with user need
It is important to use the insight into user need and context as a foundation to building a solid content strategy. It is critical to start with this insight at the earliest possible point in the strategy process. Good consumer or user insight is seen to be the basis for the entire strategy, particularly when combined with business objectives.
Mike Bracken of Digital for the Cabinet Office describes how the Government Digital Service has shifted the focus to putting user need rather than policy at the center of strategy and delivery. Old process that put policy as the starting point leads to overly detailed input, 'digital versions' of existing practices, lengthy and complex procurement procedures and inflexible solutions based on analogue thinking.
The new process shows the transformative effect of an approach driven from the very beginning by user need. For GOV.UK they created an alpha of the service in 12 weeks based on evident user needs, and designed or re- designed services through rapidly reacting to user feedback from multiple sources (user surveys, A/B testing, summative tests, social media), precluding lengthy procurement procedures and shrinking the time between feedback and resultant changes to live services. In the first 10 days after the release of the full version they made over 100 changes to the service at negligible cost.
Brands are used to pushing their products so find it hard to take a step back and resist the urge to sell, and find out what their customers really want.
Scheduling and content calendars
Content calendars are a tool for co-ordinating and scheduling activity. The key benefits of content calendars are:
Planning and co-ordination;
A tool to ensure integration, alignment;
Alignment with personas;
A RACI tool.
'Layered' content calendars
The use of a more strategic-level calendar featuring a broad overview of main activity and is usually the responsibility of a senior marketing or content person. The key aspects of 'layered calendar' approaches are:
High level 'marketing year' calendar – an overview of key periods of activity, marketing programs, business initiatives, campaigns, new launches or major promotions across the full year;
Secondary localized or executional calendars – operational, channel or format detail, overseen at a local level, integrating with the high-level calendar.
These calendars need to be flexible and adaptable. While using these calendars some use tools such as DivvyHQ, Excel or Google Docs.
Agility
There is a universal need for content to be more agile. Many companies have moved to working in weekly sprints, adopting practices more akin to Agile Development and Scrum.
Planning models and frameworks
Distributed and destination content
This model is a way of framing an approach to content that takes into account the balance and integration between domain-led or owned media assets, and distributed earned or paid media activity:
Destination content incorporates all content that is created for and housed on 'destinations' including websites, content hubs, and other owned media assets. Content is created to attract, or drive users to that content. A brand may have multiple channels through which it is delivering its digital content, but those channels are still largely owned media assets that require the user to be in situ.
Distributed content takes the approach that value from the relationship with the user might be accrued in many different places. This involves weaving your content into the 'fabric of the web', and designing for shareable, portable content or a more distributed presence.
Coca-Cola's liquid and linked content
Coca-Cola has built a content model around the idea of 'liquid' and 'linked' content.
The company believes that content needs to be 'liquid' in that it is adaptive to a constantly changing environment, provoking discussion and sharing. Dynamic, brand storytelling is key to this model, and content should be informed by traditional elements of storytelling. Coca-Cola also believes that this flexibility should be carried through to its budgeting and promotes a 70-20-10 approach to allocating budgets as follows:
70% of the budget, and 50% of time – low risk content;
20% of the budget, and 25% of time – innovative content;
10% of the budget, and the remaining 25% of time – high risk activities.
COPE – Create Once, Publish Everywhere
The principle of increasing efficiency in content creation and distribution by finding ways to avoid having to create multiple content versions, and having to deploy multiple protocols or tools for distribution. Many brands apply the concept of COPE in the context of simplifying (and perhaps deploying a higher level of automation to) communication and making it easier to achieve scale on digital platforms with less resource.
Stock and Flow
Robin Sloan applied the economic concept of stock and flow as a metaphor to describe very different but dominant forms of modern digital content. He described each type as:
"Flow is the feed. It's the posts and the tweets. It's the stream of daily and sub-daily updates that remind people that you exist.
"Stock is the durable stuff. It's the content you produce that's as interesting in two months (or two years) as it is today. It's what people discover via search. It's what spreads slowly but surely, building fans over time."
The metaphor is a useful one since it captures the very broad range of content type that brands need to incorporate in their planning.
Stock content is more likely to be original, durable content that retains or builds value over time and keeps people coming back. It is 'destination' content as it is housed on owned media assets. An example is an article written by a brand or a publisher that still ranks high on high volume search terms and so continues to bring in a regular stream of users to the brand or publisher site over a period of time. The user context for stock context is seeking information, entertainment or inspiration, exploring or engaging. Designing for stock content means creating assets whose fundamental characteristic is that their value is not restricted to a short period of time;
Flow content is defined by a short spike of audience attention and a user context more identified with browsing, grazing, updating, sharing and interacting.
Flow content is fast, highly spreadable and shareable, social and mobile-friendly. It is often 'distributed' content, which is out there in the fabric of the web. Designing for flow content means designing for portability and sharing. A great content practitioner produce stock and flow content while linking them together.
Case Study: ASOS
ASOS invested in content resource and creation and produces a large amount of content distributed across multiple channels and platforms, and has a broad focus that takes in some great examples of both stock and flow content. Stock content examples include functionality (Fashion Finder), community hubs (Marketplace), content hubs (like a YouTube channel) and offline media (magazine).
No dead ends
'No Dead Ends' relates to the idea that wherever a user is on site or app, there is a next step that isn't hard to find, e.g. relevant links, image. Data is linked to quality of that execution. The logged-in user, or utilizing a 'single customer view' through data, is a way of personalizing content experiences to make them far more relevant to individual users but remains a work in progress for many.
Hero, hub, and hygiene content
YouTube has a useful model, similar to stock and flow that frames the different types and approaches to content that might combine to create a solid content strategy:
Hub – hub content is regularly updated and engaging content worth returning to;
Hero – emotional storytelling through 'firework' content that entertains/inspires;
Hygiene – useful, answers to questions.
The three pillars of content curation
Curation is valuable in content armory as it adds depth and breadth, and involves a brand community. The three pillars are essential to the discovery of content:
Algorithmic curation, e.g. Google search personalisation;
Professional curation, e.g. commissioner uses insight to audience to determine what interests the user;
Social curation, e.g. ranking by ratings or reviews.
AMEX Open Forum used the three pillars for their mission "to connect small business owners to information, education, and each other."
Many of the practitioners had established solid processes for the creation and deployment of content and were focusing on driving greater efficiencies to improve that process, including re-use of content assets, regular sunsetting of old or out-of-date content, improving the balance between global consistency and localization, and increasing the accountability of content. For most, this was a work in progress with much more to do.
The Government Digital Service has established seven 'Digital Principles' which provide a framework to inform all of the work that they do:
Digital by default;
Putting users first;
Learning from the journey;
Building a network of trust;
Moving barriers aside;
Creating an environment for technology leaders to flourish;
Don't do everything yourself.
There are principles that help companies 'do less.' The things on the right still have value, but the things on the left have more:
Quality over quantity;
Curation over creation;
Collaboration over control.
There are also guiding points for key disciplines, e.g. information architecture, content management, etc. Governance can be a troika between:
Subject matter expertise;
UX.
It is important to find an area in the middle of these principles.
Storytelling is significant in the context of scheduling and using content to create compelling brand narratives that are highly engaging to users, mentioned the significance of storytelling. Many brands that do content well are great storytellers. It's an underrated skill, and something that content strategists should be focusing on. Great storytelling involves thinking about story pacing, lead elements, story arcs and the shape of stories, the most compelling formats to convey emotion and so on. Few companies know more about storytelling than Pixar. Pixar story artist Emma Coats revealed a series of 'story basics' or guidelines that are used at the company to help create appealing stories.
Challenges and Opportunities
It can be difficult to balance the efficiencies achieved through central controls and the need for localisation of content. Globally, there is a need to ensure greater consistency across brand assets in all markets. Locally, it is important to have the right level of freedom to reflect the nuances of local markets within content assets. There is a tension between global content requirements and localisation needs. The 2013 Organisation Structure and Resourcing Report identified the role for how centralised global digital teams are utilised:
Support regional and local teams;
Set the global vision and strategy;
Driving and sharing best practice, approach, standards, guidelines and common processes;
Co-ordination and management of global assets and campaigns, group assets, overseeing centralised resources.
Establishing the value of content
It can be difficult to develop good understanding of value of content in general and specific terms within a business. This is shown by an under-appreciation from senior management of the potential for content to enhance customer experience beyond marketing or other campaigns. It is also difficult to prove the exact business value of specific content. Improvements to attribution technologies and practices are creating greater opportunity for practitioners to show the real value that content can deliver to the business in both a broad, and narrow, context. Making data actionable is a challenge. Some organisations have made improvements in making content more actionable.
Achieving stand-out
It is difficult for brand content to stand out in the huge volume of content available for consumers. Organisations need to work hard to ensure that all content output is of the highest quality. Some brands overly focus on quantity of content output, but are now emphasizing on quality over quantity. Talented people, passion and well-crafted content is the difference between quality of content.
Integration is a challenge for many companies. The increasing focus on always-on channels is requiring a different approach to resourcing, but also to planning, particularly when it comes to integrating with shorter, more campaign-focused activity.
For more information, the full report is available online at Digital Content Strategy, Best Practice Guide