What does 'Real-Time' Mean in B2B?
The concept of real-time marketing is a response to an increasingly always-on lifestyle. Marketing has had to adapt to this lifestyle by becoming somewhat less planned. The advent of new technology has meant that it is now easy to meet consumer expectations but it also avoids a potentially ill-informed, sloppy, albeit 'real-time', response.
For B2B marketers, this expectation has grown at a slower rate than among B2C marketers. This suggests that real-time marketing didn't have a place in the process. However, real-time reactivity may offer just as much value in the considered sale than in the short cycles of consumer marketing. Real-time marketing will advance regardless of sector, and it is those companies that innovate and adapt first that will enjoy the greatest competitive advantage.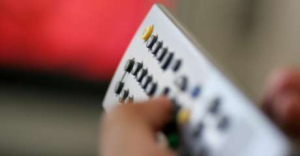 How fast is real time?
Some marketers define real-time as the ability to respond to customers in the same online session, or the ability to respond in less than a second. Near-instantaneous responses must be automated, e.g. SMS, email or search marketing. Almost 65% of B2B companies are carrying out some form of real-time marketing.
There is, however, also the question as to whether personal, non-automated responses by brands on social media are instantaneous enough to merit a description of real-time marketing. For those that do engage in real-time marketing, just over a quarter feel their current speed of marketing is sufficient to obtain the best business results for the future.
The majority of those employing real-time marketing in digital channels in digital channels as these are the easiest channels in which to automate a response. However, it is still not fast enough for today's needs. Most B2B marketers say their speed and capabilities will need to improve.
The pace of technological change is shifting customer expectations. Demands for high quality customer experience through digital channels are increasing, with personalization and the relevance of real-time marketing, bringing additional pressure on companies to be at the forefront.
Examples of data powering real-time marketing now include a whole host of factors that may influence the customer journey, e.g. location data, device type, connection speed. As real-time marketing develops, those making the most of this opportunity will be able to deliver the kind of customer experience that maximizes profit and retention.
The Benefits of True Real-Time
The benefits of real-time marketing are improved customer experience, retention and better brand reception. However, with time and experience other aspects of marketing will benefit. Its taken for granted that customer behaviours and characteristics should define which products are offered, but there are supply-side opportunities as well. Dynamic pricing, based on demand and circumstance, is also a tactic where value is best delivered in the moment.
Conversion rate is often several steps removed from the sale itself in business settings. The opportunities afforded by increasing amounts of data and improving technology mean that real-time marketing will become more of a strategic priority in the years to come.
Customers, Culture and the Experience of Tomorrow
The ability of customers to find the information they want, when they want it is today unrivalled as search engines provide customers with almost unlimited choice. This variety creates its own complications, particularly for B2B customers. At the point of a decision to purchase, there often needs to be a dialogue with sellers, and B2B consumers now expect this to be fast and personalized for efficiency.
Expectations for an excellent digital experience are outpacing the ability of most companies to fulfil them. The emphasis and investment into user experience optimization from digitally forward companies has left traditional organizations foundering. The 'always-on' nature of business today means that the B2B audience can be engaged with a brand wherever they are. Professionals are increasingly consuming content and information while on the move, and B2B content has adapted to this.
This 'fast' content reflects the pace of a digital lifestyle but its impact is limited unless marketers and their systems work quickly to identify key variables about the user to optimize delivery. At a basic level, these include device and connection speed, but the value increases with knowledge of location, identity and behaviour.
Timely, convenient and pleasurable experiences build loyalty. Business is done largely based upon the recommendations of others, and one of the best ways to encourage recommendations is through a good customer experience. This experience often centers on the additional value that a B2B company can provide by using content to express their expertise and understanding of the customer.
The Variables of Real-Time Marketing
Most marketers are using content viewed to target customers in real time. This is unsurprising given the nature of a B2B purchase journey and the type of marketing carried out by many B2B companies. Content is a central tactic for B2B, used to attract, qualify, engage and nurture leads, as well as customer retention. A key difference to B2C content is often how niche or myriad the content is. An often-used real-time strategy based on content viewed is an email sent to the downloader's address, often giving more information, contact details and a call to action.
The use of location data has grown given the rapid penetration of smartphones around the world. Though the use of geolocation technologies are less relevant to B2B marketers, as they are unlikely to have physical stores, they could be used at events, conferences and for personalized contact information.
Time is an important variable in its own right. In many business settings, a website query after hours means that the burden is on the site or app to assist the customer. Time can pre-identify a visitor as likely to have experienced an outage or service irregularity.
More familiar to B2B marketers is targeting based on behaviour, but typically in a far more passive setting than real-time allows, a system capable of responding instantly to someone's path through the site can continuously update optimal choices as the prospect reads or rejects specific content.
Real-time analysis and response enables navigation bars to be reorganized based on in-session browsing behaviours or product intent to better point visitors to the information they're seeking.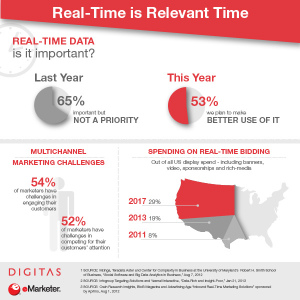 Importance of Technology and Data
Technology and data are critical to real-time marketing success while also being the most prevalent pain points. Very few organisations are 'highly effective' at collecting customer information as it occurs. Combining customer data insights from disparate sources into one centralised databases are twice as likely effective at collecting customer information.
Half of B2B companies have a strong capability in marketing technology. Internal skills for real-time marketing are shown to be slightly weaker than for other capabilities, however, only a quarter of companies are planning around internal skills, indicating a need for up-skilling as the use of real time marketing becomes more prevalent. A lack of knowledge and/or skills is a major barrier to effective real-time marketing as well as company culture being a significant barrier also. B2B companies have been slower to embrace real-time marketing; it is unsurprising that company culture is a barrier, indicating unwillingness from senior management to embark upon the unknown.
Data is a continual problem for many marketers. The 'holy grail' for marketers is often cited as the single customer view, so there is no unified customer database which is another barrier. Also over half of companies don't currently have the ability to combine customer data insights from disparate sources into one centralised database.
Most likely running alongside the company culture barrier is prohibitive cost. With a prohibitive company culture comes a reticence to change budgets, particularly giving budget to a new marketing strategy that is possibly seen as less relevant in a B2B environment by senior marketers.
Don't Forget the Human Side of the Equation
Every leap in marketing capability faces a set of hurdles that must be overcome before it can be put to best use. For B2B marketers, it appears that company culture is among the biggest hurdles. Many organizations tend to focus on the technical demands of real-time marketing, perhaps focusing on the costs of new technology while paying less attention to the more important, human side of the equation, which will ultimately power the technology.
It's essential to devote time and energy to strategy when dealing with the new and unknown;
A key element of that strategy must be budgeting and resourcing;
Few organisations will start this process with the skills and capabilities they'll ultimately need.
Moving to true real-time presents a challenge on all of these fronts, teams lack the skills to maximise the returns of true real time. The technology-driven practices at the forefront of digital marketing all share the challenge of tying strategy, creativity, technology and data together. The issue of complexity exacerbates these issues for real-time marketers.
One reason for this is the need to stitch together multiple sources of data before they can be used to power a real-time campaign or program. Companies need to establish goals and objectives around real-time marketing, assess the skills and capabilities of the team, and put in place processes that will ensure that teams are working towards these goals. Every step of the journey between concept and execution should be analysed and optimised to be as easy as possible. If marketers are caught in the weeds of stitching together data sources, or creating matrices of countless creative options, the success of a real-time enablement should make sure that usability, practicality and innovation are present in equal measure.
Real-time marketing, particularly in the B2B industry, is at the early stage of evolution, with a small minority considering themselves to have effectively integrated technology, data and marketing skills. No matter how good the intention to integrate data and technology, and embrace real-time marketing, it is budget that creates the real opportunity, allowing new technologies to be put in place, and new skills to be trained. The budget moves the intention to reality.
Currently, B2B marketers are actually ahead of their consumer-side peers in some respects. B2B marketers are more likely to be working with email as a primary channel, while in B2C dynamic websites and dynamic content delivery is often the target. Where B2C excels is at the larger, strategic level. Majority of B2B respondents either don't know or can't contend with the requirements of real time. Smart marketers may see this as an advantage, taking an early-mover advantage while a large minority of the industry considers next steps.
Marketers are slowly but surely making the steps to add real-time capabilities. They realize the need for rapid, relevant messaging and customer service. The power of real time is in the marketer's ability to know when the customer is interested, and deliver a dynamic message in that moment. Crucially, companies must have the infrastructure, skills, technology, and culture in place to enable spontaneous, real-time marketing to happen and be effective when it does.
If you would like to read more on the topic, please go to Econsultancy.com for more information.