Bookboon provides your employees with access to a customized eLibrary rich in relevant professional literature for your company's internal use. Bookboon's eLibrary offers a number of different corporate solutions for internal development and education of employees spanning over 400 business titles, with all books written by business experts and peer-reviewed by academics from MERLOT – a program of the California State University System partnering with education institutions, professional societies and the publishing industry.
Branding and customization
All eLibrary books are made available on the company intranet with full re-branding using the corporate look&feel, including logo, front cover creative and internal banners.  Employees are encouraged to download, read and share with their colleagues any interesting titles available in the corporate library.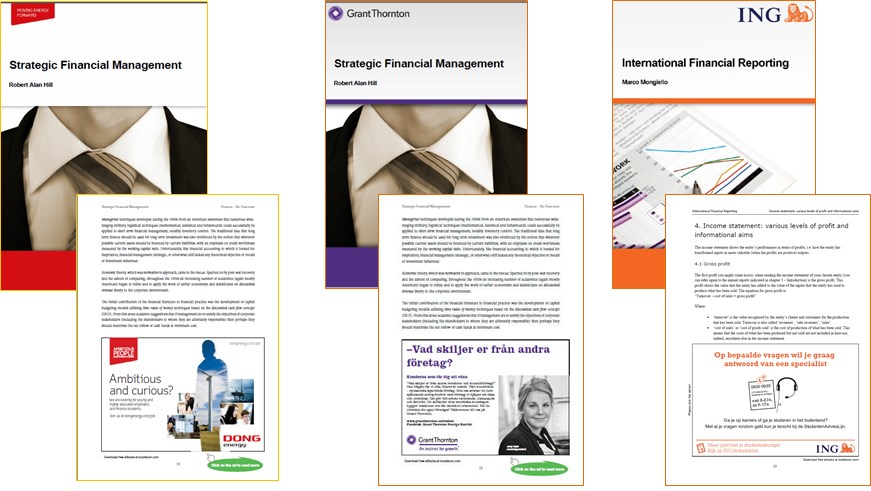 Technical implementation
Bookboon delivers a fully customized eLibrary which will take your IT department 15 minutes to implement on the company intranet. The solution is quick and easy for you and your IT department to implement. The ebooks are made available for immediate download through a fully automatic system. The eLibrary platform can integrate with the existing HR or Learning & Development systems to provide valuable employee insights in a cost-effective manner.
Books for business professionals
We offer a vast range of over 400 eBooks for business professionals, all written by experts within their fields and exclusively for bookboon.com.
These eBooks are designed for business professionals and provide effective introductions to many different personal development topics. The books are relevant for fields such as IT, engineering, sales, marketing, finance, management etc.
There are several advantages for your company and your employees from using Bookboon's eLibrary:
Easy access to all books without advertisements
Personal development without it feeling like work
Educating and developing your employees
Time effectiveness without any extra work for you
Examples of book titles
Networking
Project Management
Excel 2010 – Basic to Advanced
Time Management
Thinking Skills
Strategic Management
Understanding Personality Types
Leadership Skills
Understanding Social Media
Personal Motivation
Request more information
Soliber Net works closely with Bookboon to insure the deployment of eLibrary is a simple process while providing a wide range of customizations to fit existing Intranet sites. You can use the form below to get in touch with one of our product managers and find out more.

Our publishing platform includes 400+ most relevant books for any business audience including Management, Strategy, Excel Skills, Sales, Marketing, Personal Development - all ready for download by your users with your customized look&feel.
With over 55 million downloaded eBooks on bookboon.com in 2013, we know our content is relevant and in high demand across many verticals.
About Bookboon
Bookboon is an international company with headquarters in London. Bookboon provides over 1,000 books out of which some 400 are business oriented. Bookboon are specialists in Media Campaigns for Marketing, Sales, and Human Resources. Bookboon.com is the largest eBook publisher in the world, with a focus on education related books for business professionals and students.