Lead generation is the process of converting visitors on your website into leads. Usually, visitors become leads when they call a dedicated phone number, subscribe to a newsletter, request a quote or fill out a form in return for some sort of offer (e.g. a webinar, a trial, etc.) on a targeted landing page.  These leads can then be qualified and distributed to your sales team, tracked in a CRM application and turned into paying customers!
Small and medium companies spend thousands upon thousands of dollars ineffectively while trying to market their product or service online but fail constantly against Top 500 competitors in their vertical.  Since we started working with direct clients besides our traditional whitelabel partners, we see way too often only half the job of marketing is done: many companies either neglect or are unaware of the tools available to them which would allow them to enhance the efficiency of their campaign and cut costs simultaneously. By comparison, large companies use a 360 view to identify and rank go-to-market vehicles, then implement strategies that take them into account and map budget spending against each by ROI.
A study conducted by MarketingPros.com and the Content Marketing Institute on 1,092 companies highlighted that 41% of surveyed marketing organizations consider producing quality content as their biggest challenge. To address that we partnered with BookboonGlobal, the largest ebook publisher in the world, to license highly relevant business content for our clients and make them competitive again.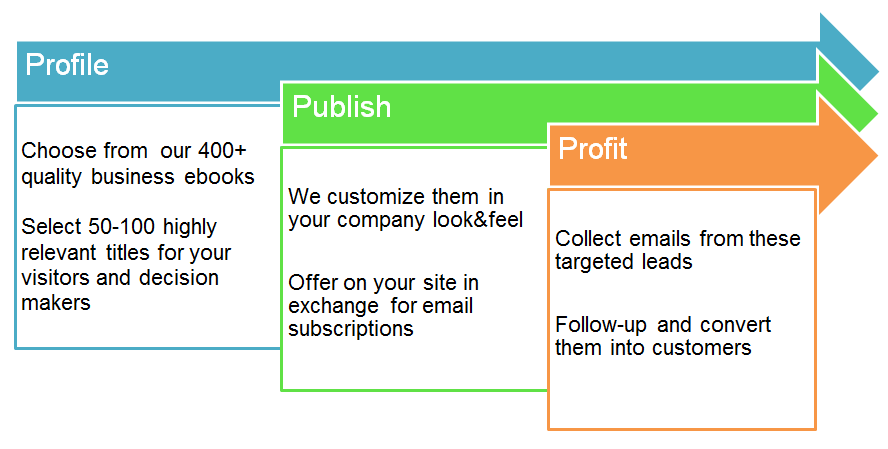 Our publishing platform includes 400+ most relevant books for any business audience including Management, Strategy, Excel Skills, Sales, Marketing, Personal Development - all ready for download by your users with your customized look&feel.
With over 55 million downloaded eBooks on bookboon.com in 2013, we know our content is relevant and in high demand across many verticals.
How Does a Small Company Generate Leads Like a Big Company?
During economic downturn, businesses must shift some of their marketing dollars to search engine advertising. It is more measurable and targeted than display advertising, so it appeals to marketers with tight budgets. They're shifting money out of paid search advertising, and into optimization, content, and social media that help them get found in organic search results.
In traditional marketing (outbound marketing), companies focus on finding customers. They use techniques that are poorly targeted and that interrupt people. They use cold-calling, print advertising, T.V. advertising, junk mail, spam and trade shows.
Technology is making these techniques less effective and more expensive. Caller ID blocks cold calls, TiVo makes T.V. advertising less effective, spam filters block mass emails, and tools like RSS are making print and display advertising less effective. It's still possible to get a message out via these channels, but it costs more. The online marketing poster child, the Pay-Per-Click ads that make the bulk of revenue for Google, Bing and Yahoo! have become more and more expensive over time as the competition increases and companies try to outbid each other for the most popular, high-converting keywords. And to top it all, browser plugins able to block text ads are becoming increasingly popular in response to their proliferation.
Squeezed out of the traditional media vehicles, SMEs have the opportunity to flip outbound marketing on its head. Being small and flexible helps them fight back and win ground in social media spaces, Web 2.0 and innovative crowdsourcing projects. Instead of interrupting people with television ads, they create videos that potential customers want to see. Instead of buying display ads in print publications, they create their own business blog that people subscribe to and look forward to reading. Instead of cold calling, they create useful content and tools so that prospects contact them looking for more information. Instead of driving their message into a crowd over and over again like a sledgehammer, they attract highly qualified customers to their business like a magnet. And this is where Soliber Net's expertise gained in over 7 years of transforming large online businesses comes into play, helping our direct clients bridge the gap and embark on their inbound marketing journey.
Lead generation, the Soliber Net way
Our most successful Lead Generation campaigns have four key components:
Affordable Marketing Automation
Nearly every marketing automation tactic is designed to help improve marketing in one or more of the following four areas:
Enable listening – Learn about individual consumers in order to better understand their needs, based not only on what they are telling you, but the behaviours they exhibit.
Individualize content – Figure out what the most relevant information is for each customer and using that to drive your communication strategy.
Time delivery to match need – Find out when different types of information are relevant, and when they are not, and make sure each individual gets the right information at the right time.
Measure and optimize – Once repetitive automation tactics are in place, effectiveness metrics quickly build up, enabling insight into which programs are driving qualified leads into the funnel and converting into revenue.
 A lot of people when they think of marketing automation just want a better way to send emails – more emails faster. That's the wrong approach. You need to create a dialogue with your customer. People buy from people. You want people to feel like you're engaging and listening to them. When you approach marketing automation, it's not just to automate getting the message out, it's automating getting the right message out at the right time.
Jerry Kosmachuk, Neolane